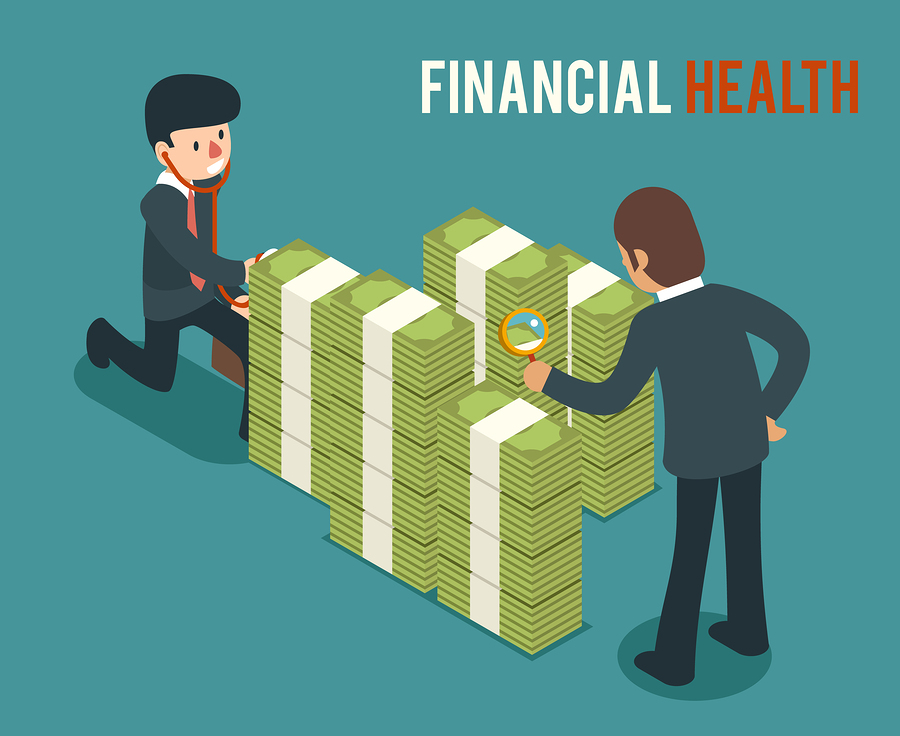 Are you financially healthy? Take this financial health test to help determine the status of your finances and evaluate your fiscal wellness.
Do you have an emergency fund?
Ideally, you should have the equivalent of three times what you are spending on a monthly basis in savings for unexpected events. While you may be able to borrow funds or rely on family for help in an emergency, having immediate access to your own money can alleviate financial and emotional stress. Remember also to continually increase your savings to match increases in spending. A rainy day fund is a measure of good financial health.
Do you have a budget?
If you are keeping careful track of your revenue and expenses, you are more likely to feel financially healthy. A budget that is reviewed annually and followed thoroughly enables you to track your spending habits and savings progress.
         3. Are you saving for retirement?
The health of your personal finances depends heavily on your ability to prepare for your future. You should create a retirement plan that includes automatic contributions to your retirement plans. Your financial portfolio should be diversified and well-balanced to maximize long-term growth for stability when you cut back work hours and ultimately leave your job. Your retirement plan should account for your financial needs through your 70's, 80's and beyond. That includes growing investments in early retirement and preserving them later for rising medical and support services expenses as you age.
Do you have debt?
This question addresses your financial liability. The degree of debt you have is directly correlated with your financial health. Are you paying off loans regularly or accumulating them? Excessive debt robs you of the ability to contribute to your retirement accounts and invest those funds in growth opportunities that will provide stability in your senior years. Unlike mortgages or some student loans, credit card debt is especially harmful as the interest accrues rapidly but is not tax-deductible. You are considered financially fragile if debt is impeding your ability to save for your future. Excessive debt is also indicative of poor money management.
Do you have a plan to protect your loved ones in case of your death?
If people are financially dependent on you, a life insurance policy safeguards their needs if something happens to you. You are considered financially healthy if you have accounted for the needs of your loved ones while taking care of your own needs.
Americans are frequently stressed about finances. It is a top cause of divorce nationwide, and a constant concern for many. A 2015 study by the American Psychological Association revealed a link between financial stress and physical health.
As daunting as the task may seem, there are steps to help recover from financial fragility and reach peak financial health. Examine your personal finances thoroughly, including all expenses and income. And meet with a trusted financial advisor to create a manageable retirement savings plan for your future.
At Silverman Financial, our goal is to help our clients achieve optimal financial health for stress-free lives. We create personalized retirement plans to promote short and long-term security and stability.