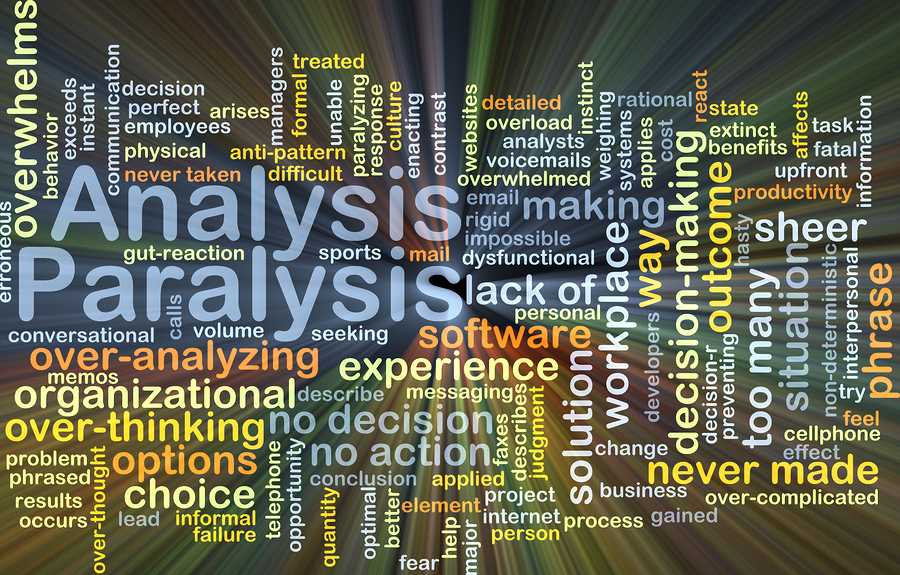 Stocks, dividends, securities, bonds, mutual funds, interest rates, principal.  The terminology alone is enough to make your head spin.  Add in the fact that you are trying to make critical decisions affecting your financial affairs and future livelihood, and suddenly you have the perfect formula for serious financial distress.
That overwhelming feeling in the midst of retirement planning is not only unpleasant. It's also frequently debilitating. In industry terms, it's known as analysis paralysis. In plain words, it means you are so overwhelmed by the myriad of choices that you cannot make any decisions. Instead, you over-analyze the markets, continually re-examine your choices, and fear making the wrong decision. You end up making no decision at all. And that is particularly damaging to your financial health.
What can you do?
Take a big step back. Assess your goals and timeline. Are you looking to retire in five years or in fifteen years? What kind of retirement do you want? How much will that kind of lifestyle cost? What is your risk tolerance? What is your current financial position, how much, if any, have you saved already, and what, if anything, are you currently invested in?
Set a deadline. You may be a bit uncomfortable committing to a timeline, but by creating an end time, you will be training yourself to make decisions.
Reduce your choices. Examine your investment options and narrow them down by asset classes. Based on your goals, determine how much of your portfolio to invest in bonds/fixed income, equities/stocks, or cash/money market investments. Diversification is the general rule of thumb, but make sure to allocate funds to investments that are most beneficial to you.
Focus on what you need to know. Even though you may want to learn everything possible at one time about all the different types of markets, their performance histories and investment options, doing so will only hamper your ultimate efforts. Recognize what you need to know, and stop searching information on what you don't need to know.
Consolidate and declutter your finances. If you have several IRAs, compare the fees and taxes to determine which may be providing the best returns overall. Either merge all your accounts into the top-performing, least expensive account, or considering rolling them together into a single new account as part of your new financial plan.
Take baby steps. You do not need to make all the decisions at once. Take it slowly. Each small step you take will bring you closer to completing the process. One example: focus on your idle cash first. Determine how you want to allocate it within the three main asset classes, and commit to doing so right away. Then you can focus on how to invest your pension, retirement accounts, social security, and other sources of income.
Seek help! This is perhaps the most critical step. Ask friends and relatives for recommendations to a trusted advisor. Also, ask them about their personal experiences. Even though you should not expect professional advice from unqualified sources, you can glean vital information from their stories. When looking for professional help, consider their fees in your overall decision. Then, once you find a reliable and experienced financial planner, work together to create a flexible, personal and workable plan for your future.
Commit to reviewing your portfolio annually. Some investments are likely to perform better than others, meriting rebalancing to keep your investments aligned with your risk tolerance. Your needs will also change as you age. Reviewing your accounts each year will help you reevaluate your current situation and will keep you on track long-term.
At Silverman Financial, we are committed to working with you to simplify the process of retirement planning. We develop ongoing relationships to provide continuing support throughout your financial life.