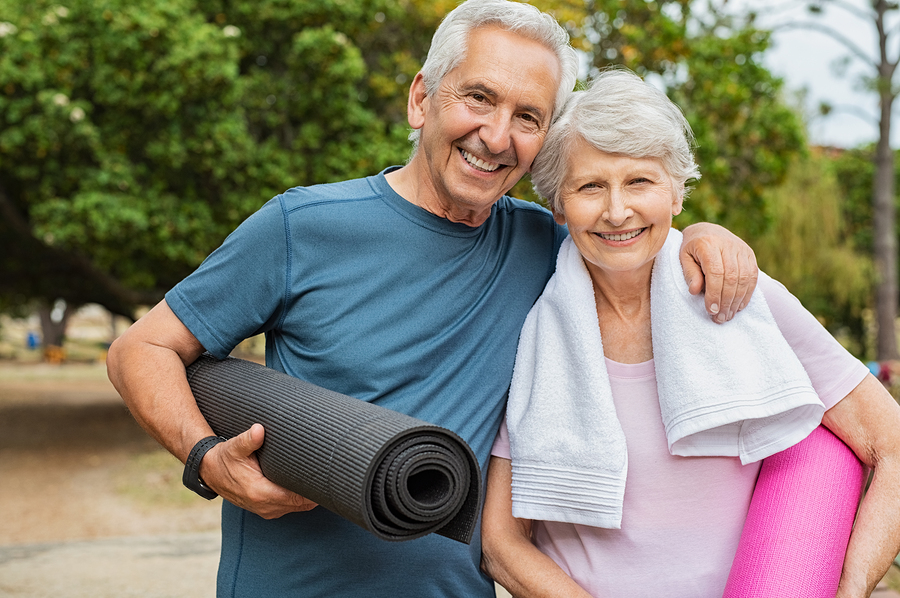 Aging may not be for the faint of heart. But it need not be grueling either.
While it is natural to physically and mentally slow down, there are many actions you can take to ease the aging process. Certain lifestyle changes can delay the onset of health problems and sometimes prevent them altogether.
Among the top actions to take to stave off the negative effects of aging is exercise. Exercise has been shown to: improve mood, prevent disease, increase balance and mobility, and heighten mental cognition. It can also lower cholesterol and help maintain normal weight. Physical activity is often credited for reducing falls in seniors too—a common occurrence that can lead to serious complications. And it's been linked to longevity. Simply put: exercise can extend both the quantity and the quality of your life.
Before starting an exercise routine or new activity, consult with your healthcare provider for specific guidelines and any personal instructions. Your physician can help create an exercise plan tailored specifically to your personal health needs and history.   
It is also imperative as you age to maintain routine medical check-ups and keep vaccines up-to-date. Ask questions, review medications, and address new concerns with your physician regularly during your physical exams.  Keep up with dental check-ups and biannual teeth cleaning appointments too. Serious dental problems can be painful, costly and invasive. Catching them early can significantly improve treatment and outcomes.
Senior stress is associated with poorer health consequences. Loneliness and illness can lead to isolation, sadness, and depression.  Older people also deal with loss often, further contributing to mental distress. Retirees who are socially engaged tend to be emotionally and physically healthier than their isolated and sedentary counterparts. As a retiree, look for hobbies and meaningful activities to participate in. Consider volunteering; it has been shown to be especially beneficial to the emotional health of seniors.
Financial distress is also challenging for seniors. Various studies reveal the same conclusion: seniors are more afraid of outliving their savings than of dying. Prepare for a financially secure retirement as soon as possible. Examine your assets, savings and investments, as well as your expenses. Consider all your housing and healthcare options and create a budget to support your needs for the short and long term. With lifespans mushrooming, it is critical to establish a financial plan that will last throughout your golden years. The security of doing so will provide tremendous peace of mind, improving the overall quality of your retirement.
At Silverman Financial, our goal is to prepare you for a stable, secure and fulfilling retirement. We review your portfolio and personal situation to create a flexible and lasting roadmap that meets your financial needs as you age.