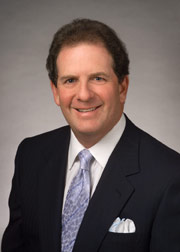 Marc began his financial planning career in 1983 and formed Silverman Financial in 1989. Since the beginning of his career, Marc has been a leader and has thoroughly enjoyed his profession. He chose this career because he enjoys meeting people and helping them in achieving their financial goals. A key to his success is the exceptional service he and his staff provide to clients. He is energetic and enthusiastic and will go to great lengths to get the answers to a client's questions. He has a diversified client base including public corporations, closely held businesses, individuals, trusts and estates. His motto is, "promise a lot and deliver more."
Marc earned his Master's Degree in Business Administration from the University of Miami and was the past President of the University of Miami Alumni Board School of Business. He is a Chartered Life Underwriter and Certified Financial Planner™. He is a past President and Board member of the Miami Chapter of the Society of Financial Service Professionals. In addition, he is a past member of the Board of Shaare Zedek Medical Center and the Florida Bar Grievance Committee. He is a past Chair of the Top of the Table and has served on the Million Dollar Round Table Advisory Board.
Marc is a gifted speaker and has addressed audiences in the United States, Canada, South Korea, United Kingdom, New Zealand, Singapore, Taipei and Australia. He lives in Miami with his wife, Patti, and daughter, Cara. He enjoys playing golf, maintaining his saltwater aquarium and traveling.
To Learn More About Our Services, Please Click Here