Market volatility seemed to be the norm in 2011. In just two trading days (October 31 and November 1), for example, the Dow Jones Industrial Average lost almost 4.7% of its value. At the end of the month, the Dow gained 4.2% in a single day (November 30).1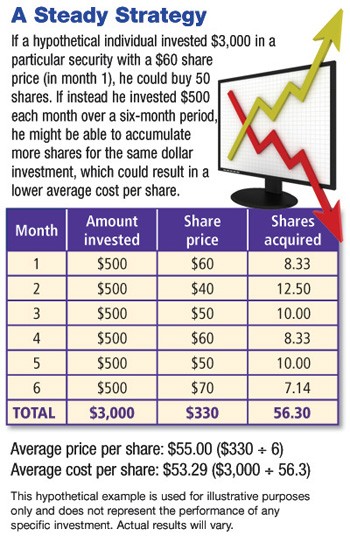 As an investor, you may find that volatility is hard on your nerves, and it could have a negative effect on the value of your investments if you react emotionally by changing your strategy as the market rises and falls.
Dollar-cost averagingmight help to even out these ups and downs in your portfolio. This strategy involves investing a fixed amount on a regular basis in a particular security, such as a mutual fund, regardless of market conditions. Theoretically, when the share price falls, you would purchase more shares for the same fixed investment, which may provide a greater opportunity to benefit when share prices rise and could result in a lower average cost per share (see table). Dollar-cost averaging also may help you weather market volatility.
Of course, dollar-cost averaging does not ensure a profit or prevent a loss. Such a strategy involves continuous investments in securities regardless of fluctuating prices. You should consider your financial ability to continue making purchases during periods of low and high price levels. However, this can be an effective way for investors to accumulate shares to help meet long-term goals. All investments are subject to market fluctuation, risk, and loss of principal. Shares, when sold, may be worth more or less than their original cost.
Mutual funds are sold by prospectus. Please consider the investment objectives, risks, charges, and expenses carefully before investing. The prospectus, which contains this and other information about the investment company, can be obtained from your financial professional. Be sure to read the prospectus carefully before deciding whether to invest.
1) Yahoo! Finance, 2011
The information in this article is not intended as tax or legal advice, and it may not be relied on for the purpose of avoiding any federal tax penalties. You are encouraged to seek tax or legal advice from an independent professional advisor. The content is derived from sources believed to be accurate. Neither the information presented nor any opinion expressed constitutes a solicitation for the purchase or sale of any security. This material was written and prepared by Emerald. Copyright © 2012 Emerald Connect, Inc.