According to some measures, total student debt in the United States surpassed $1 trillion last spring and is now more than Americans owe on credit cards or auto loans.1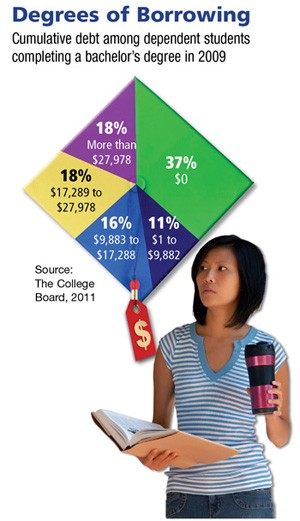 In 2010, about 56% of students who received a bachelor's degree from a public college or university had an average debt of $22,000. Not surprisingly, debt was even more substantial for graduates of private not-for-profit schools, where 65% of students completed their studies with an average debt of $28,100. Borrowing rates were even higher at for-profit private schools.2
Research indicates that college graduates earn more over their lifetimes, have a lower rate of unemployment, and are generally happier and healthier than those with less education.3 Yet in today's increasingly competitive economy, these benefits can come with a steep price, especially for recent graduates. From 2000 through 2010, average earnings for workers aged 25 to 34 with only a bachelor's degree have dropped 15% while student loan debt of all new graduates rose 24%.4
It might be helpful to think of college as an investment, similar to buying a home. Before committing to a home purchase, you would probably analyze the total mortgage amount and the monthly payments and then decide whether owning that particular home was worth the long-term financial commitment.
The same logic could apply to college loans. You and your student may want to weigh the debt necessary to fund a specific educational path against a realistic assessment of the earning potential after graduation. There may be lower-cost options to achieve a similar educational goal. Or you might consider a degree path that is more likely to yield higher earnings in the future.
Of course, increasing your college savings could provide more options for your student and help him or her graduate with lower debt. In the class of 2009, 37% of students graduated with no debt at all (see chart). That's a good way to start a career.
1) USA Today, April 25, 2012
2) The College Board, 2011
3) The College Board, 2010
4) The Wall Street Journal, April 27, 2012
The information in this article is not intended as tax or legal advice, and it may not be relied on for the purpose of avoiding any federal tax penalties. You are encouraged to seek tax or legal advice from an independent professional advisor. The content is derived from sources believed to be accurate. Neither the information presented nor any opinion expressed constitutes a solicitation for the purchase or sale of any security. This material was written and prepared by Emerald. Copyright © 2012 Emerald Connect, Inc.