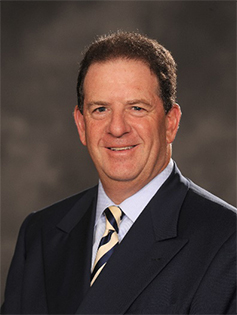 Miami (Sept. 1, 2017) —
The Million Dollar Round Table (MDRT) Foundation appoints local financial advisor, Marc Silverman, CFP, ChFC, to President. Silverman will be the 52nd President of the MDRT Foundation and will succeed 15-year MDRT member H. Richard Dobson Jr., CFP, of Cedar Falls, Iowa.
The MDRT Foundation's global grant programs fund a diverse range of charitable organizations that serve children and youth, people with disabilities, the elderly and medical research. As MDRT Foundation President, Silverman will lead the Board of Trustees in their fundraising, grant making, and strategic planning initiatives for fiscal year 2018.
A 32-year MDRT member, Silverman holds five
Court of the Table
and 23
Top of the Table
qualifications. He is a past president and board member of the Miami Chapter of the Society of Financial Service Professionals and a past Chair of Top of the Table."Opportunities to give back to our local and global communities help passionate members to come together and work to make the world a better place. I look forward to inspiring even more members to participate," said Silverman.
Local organizations that have received funding from the MDRT Foundation include: Diabetes Research Institute (DRI), at the University of Miami's Miller School of Medicine and The Children's Bereavement Center.
ach year the MDRT Foundation conducts a service project in the local community of its Annual Meeting. This year, the Foundation partnered with Give Kids The World Village – a nonprofit organization located in Kissimmee, Florida, that provides weeklong vacations to children with life-threatening illnesses and their families. The MDRT Foundation raised $345,000 through its Promise Appeal campaign, and more than 175 members from 27 countries worked to beautify the grounds and prepare the campus for visitors.
About the MDRT Foundation
The
MDRT Foundation
was created in 1959 to provide MDRT members with a means to give back to their communities. Since its inception, the MDRT Foundation has donated more than USD 30 million to charitable organizations serving people in 70 countries and all 50 U.S. states. The majority of these funds were raised by MDRT members and financial services industry partners. The mission of the MDRT Foundation is to increase member and industry participation and to give funds to worthwhile charitable organizations throughout the world. To learn more, follow
https://www.facebook.com/
MDRTFoundation or visit
mdrtfoundation.org
.
About MDRT
Founded in 1927, Million Dollar Round Table (MDRT), The Premier Association of Financial Professionals®, is a global, independent association of more than 62,000 of the world's leading life insurance and financial services professionals from more than 500 companies in 69 nations and territories. MDRT members demonstrate exceptional professional knowledge, strict ethical conduct and outstanding client service. MDRT membership is recognized internationally as the standard of excellence in the life insurance and financial services business. For more information, please visit
mdrt.org and follow them on
Twitter @MDRtweet
.
Contact Information
Miranda Knight
MDRT
847-993-4955
mknight@mdrt.org
@MDRTweet
Tori Unger
G&S Business Communications
312-648-6700
tunger@gscommunications.com
@ToriKUnger