Studies by the Investment Company Institute and the Federal Reserve Board indicate that investors' willingness to assume risk tends to rise and fall with the stock market.1 Of course, it's not surprising that people are more likely to pour money into stocks when the market is trending upward and to retreat when the market trends downward.
To become a rational investor, the more important issue may be yourperception of investment risk and how much you are willing to assume to pursue your long-term goals.
Behavioral Traits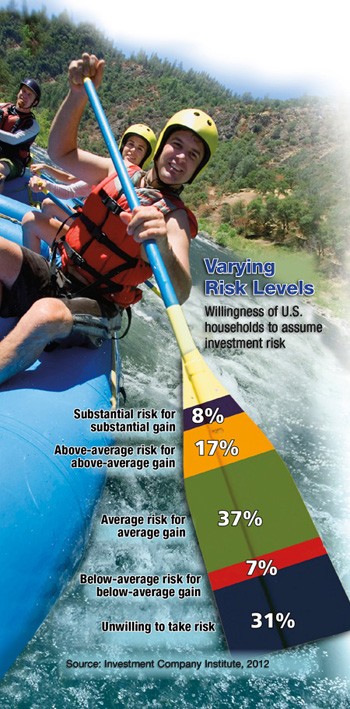 The field of behavioral finance seeks to understand how and why investors react to different outcomes and events. One study indicates that people tend to have a subjective "reference point" for considering whether an investment is a success or a failure, and they may have different reference points for different investments.2
Investors also tend to react more emotionally to losses than to gains. They feel rewarded when an investment reaches a specific reference point, but when it doesn't their negative feelings about not reaching it are much stronger.3 Fear and anxiety may lead investors to sell when the market falls steeply, as it did in 2008 and early 2009, which could result in their incurring a loss on their original investment and missing out on potential gains when the market begins to recover, as it did in late 2009 and in 2010.
If you relate to having some of these emotional reactions, you may want to examine your risk tolerance and consider whether your reference points are reasonable.
Is It All in the Brain?
Neuroscientists are discovering that many emotions and behaviors are "hard-wired" in the brain. Sensory input reaches a section of the brain called the amygdala first and can trigger a "fight or flight" response. The amygdala is essentially the brain's "fear center." In a study at the California Institute of Technology, patients with damaged amygdalas not only were more willing to take financial risks than the control group but demonstrated no fear of monetary loss. By contrast, people with healthy amygdalas exercised a level of caution toward risk taking.4
French researchers found that another area of the brain called the ventral striatum responds to the potential for reward and drives other responses to try to achieve it. In their tests, an increase in the dollar value of the potential reward created increased activity in the ventral striatum, which led to increased efforts to achieve the reward.5
The fact that your emotions may be influenced by specific areas of the brain does not mean they are out of your control. But research does suggest that a variety of psychological and physical factors could affect your decision making and might guide you in the wrong direction. Although you should be aware of these factors, it's important to make investment decisions based on a rational analysis of your time horizon, risk tolerance, goals, and personal circumstances.
1) Investment Company Institute, 2011
2–3) advisorone.com, February 23, 2012
4) California Institute of Technology, 2010
5) sciencedaily.com, February 22, 2012
The information in this article is not intended as tax or legal advice, and it may not be relied on for the purpose of avoiding any federal tax penalties. You are encouraged to seek tax or legal advice from an independent professional advisor. The content is derived from sources believed to be accurate. Neither the information presented nor any opinion expressed constitutes a solicitation for the purchase or sale of any security. This material was written and prepared by Emerald. Copyright © 2012 Emerald Connect, Inc.