July 2012 was the warmest month in the contiguous United States since national weather statistics were first kept in 1895. The seven-month and 12-month periods ending in July also set heat records, and precipitation has been lower than normal, especially in the central part of the country. By the end of July, these hot and dry conditions had driven a rapid expansion of drought across 63% of the nation, devastating crops and livestock from the Great Plains to the Midwest.1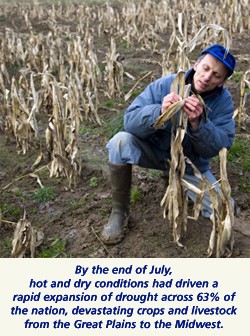 The corn crop has been hit hardest, with the U.S. Department of Agriculture (USDA) forecasting a drop in production of almost 17% over previous projections.2 Soybean production is also projected to decline sharply.3 In addition to its effect on farming, the drought has created dangerous conditions for wildfires, and shipping on the Mississippi River has been disrupted by low water levels.4–5
Although the severity and full effect of the drought might not become clear for some time, it may be helpful to examine its potential implications for consumers and the U.S. and global economies.
Corn Conditions
For many Americans, corn on the cob is a staple of summer meals, and cornflakes might begin the day. However, corn for human consumption accounted for only about 12% of domestic usage in 2011. The rest was split between livestock feed and ethanol production.6
Corn prices have skyrocketed about 60% this summer, forcing some farmers and ranchers to slaughter livestock, which has created a short-term glut of meat products that may briefly lower prices.7–8 In the longer term, consumers should expect higher prices for meat, poultry, dairy, and corn products beginning this fall and rising further next year.9
The USDA currently forecasts a 3% to 4% increase in food costs in 2013, but that may be raised as the severity of the drought becomes clearer.10Even so, serious price spikes or shortages are unlikely. The farm price of corn is a relatively small percentage of supermarket prices, and there are sufficient stockpiles of other foods including wheat and rice, the two most important grains for human consumption.11–12
Global Impact
The United States is the world's largest supplier of staple grains, and about 20% of its annual corn crop is exported.13–14 Due in part to the U.S. drought, world food prices rose 6% in July.15 Hot, dry conditions have damaged crops in Russia, India, and Australia, while heavy rains have reduced sugar output in Brazil, the world's largest sugar producer.16
Drought and high food prices have already caused a food crisis in the Sahel region of west and central Africa. Other poor countries, which typically do not produce enough food domestically, face the greatest risk if prices continue to rise.17
The Ethanol Mandate
In 2007, the federal government mandated that the nation's total gasoline supplies include an increasing percentage of ethanol over a five-year period (9% in 2012).18 Since 2010, more corn has been earmarked for ethanol production than for livestock feed, although almost a third of this is recycled as feed-enhancing by-products.19
The high price of corn could increase gasoline prices, while the diversion of corn to ethanol has contributed to rising global food costs. In August, the UN's Food and Agricultural Organization asked for an "immediate, temporary suspension" of the ethanol mandate, and there is increasing pressure from within the U.S. as well. However, the mandate also has strong proponents, so timely change seems unlikely.20
Farmers and Ranchers
Although a prolonged drought could devastate the agricultural economy, crop insurance — funded in large part by the federal government — may help mitigate the short-term impact, and high prices could make corn and soybeans more profitable for some farmers.21
Ranchers, who do not have crop insurance and are losing grass and hay on top of paying high feed corn prices, face more imminent losses. Federal disaster relief for ranchers has been stalled by the congressional recess and debate over the farm bill.22
Wildfires and River Levels
Fed by dry vegetation and drought, wildfires burned more than 7 million acres across the country (as of August 21), the most on record at this point in the fire season.23 In addition to the human cost and loss of timber resources, firefighting expenses are stretching already thin state budgets throughout the West.24
Low water levels on the Mississippi River have narrowed channels and forced shipping companies to run barges with lighter loads. Similar conditions in 1988 cost the inland water transportation industry about $1 billion, with additional costs passed down to consumers.25
The longer the drought lasts, the greater the potential for serious economic consequences. For now, the wisest course may be to monitor continuing developments and hope for more rain.
1)  National Oceanic and Atmospheric Administration, 2012
2) The Wall Street Journal, August 10, 2012
3, 6, 9–10, 14, 19)  U.S. Dept. of Agriculture, 2012
4, 23)  usatoday.com, August 21, 2012
5, 25)  time.com, July 30, 2012
7, 11, 13, 21)  CNN.com, August 13, 2012
8, 22)  businessweek.com, August 19, 2012
12)  CNN.com, August 20, 2012
15–17)  BBC News, August 9, 2012
18, 20)  Reuters, August 10, 2012
24)  Associated Press, August 23, 2012
The information in this article is not intended as tax or legal advice, and it may not be relied on for the purpose of avoiding any federal tax penalties. You are encouraged to seek tax or legal advice from an independent professional advisor. The content is derived from sources believed to be accurate. Neither the information presented nor any opinion expressed constitutes a solicitation for the purchase or sale of any security. This material was written and prepared by Emerald. Copyright © 2012 Emerald Connect, Inc.