In a recent survey, 94% of marketers reported that they are using social media to market their businesses, and many small-business owners were willing to tout its potential benefits. About half (51%) of small businesses (2 to 100 employees) reported that social media helped to improve sales.1
Although established networks such as Facebook, Twitter, and LinkedIn are already well known and widely used, newer communities such as Pinterest and Google+ are gaining regular users at a rapid pace. Usually, there is no cost to join social media sites, but managing one or more profiles may demand a significant amount of time and effort. During a typical week, 59% of business marketers devote six or more hours to social media activities, and 33% invest at least 11 hours.2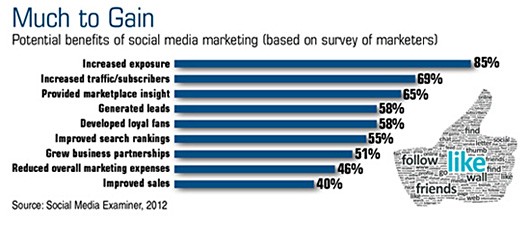 Here are a few tips for creating and using social media profiles effectively.
Focus on operations first. Make sure your business is running smoothly before you start devoting time or other resources to social media pursuits. However, you may want to stake a claim to your business name on sites where you expect to have a presence in the near future.
Do your homework. Consider spending several weeks or months exploring the territory, learning to use the technology, and researching the marketing techniques of similar businesses, especially if you are not currently active on personal social media profiles as a consumer.
Start with one account. It's possible that one social network is more popular than others with your target audience. It may take a while to create a workable routine for updating posts and interacting with clients online.
Keep your profile professional. Try to provide helpful information that your customers are likely to find valuable. Avoid posting negative or controversial comments.
Offer freebies or other incentives to engage potential customers. A contest that gives users a chance to win a prize, or a generous coupon, may be all you need to attract a following.
Don't neglect your network. You may need to respond to client requests, concerns, or complaints quickly. Otherwise, a single, isolated mistake could become a more serious public problem.
1–2) Social Media Examiner, 2012
The information in this article is not intended as tax or legal advice, and it may not be relied on for the purpose of avoiding any federal tax penalties. You are encouraged to seek tax or legal advice from an independent professional advisor. The content is derived from sources believed to be accurate. Neither the information presented nor any opinion expressed constitutes a solicitation for the purchase or sale of any security. This material was written and prepared by Emerald. Copyright © 2012 Emerald Connect, Inc.