There's an old saying that some things get better with age, and apparently one of those things is the ability to manage personal credit. A consumer reporting agency study indicated that people aged 66 and older had the highest average credit scores, followed by those aged 47 to 65.1
Your credit score can affect your ability to obtain credit and the interest rate you pay. So having a high score could be helpful to your overall financial strategy. But a good credit rating doesn't always mean you are in a strong financial position. Consider these other factors for each age group.
Ages 66 and older. The average total debt for this group is about 51%below the national average. That's good news and may reflect the fact that many people have paid down their mortgages and are less likely to have student loans. The not-so-good news is that this age group carries credit-card debt that is 43% higher than the national average. This trend is of particular concern for those who are retired and living on a reduced or fixed income.2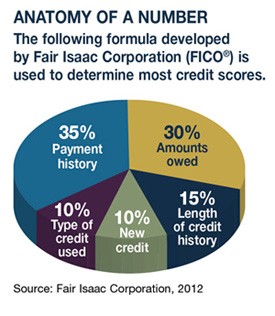 Ages 47 to 65. The average total debt for baby boomers is about 30% above the national average, which is not surprising considering that many people of this age have mortgages and may be helping to pay for their children's college educations. However, second mortgages for baby boomers are also well above the national average, which could prove to be a burden as they transition to retirement. The good news is that many baby boomers are in their prime earning years, and their other consumer debt (such as credit cards and auto loans) is at or below the national average.3
Regardless of your age or personal situation, it would be wise to monitor your credit report on a regular basis. You can order a free report annually from each of the three major consumer reporting agencies atannualcreditreport.com or by calling (877) 322-8228. You'll typically have to pay to see your actual credit score.
1–3) Experian, 2012
The information in this article is not intended as tax or legal advice, and it may not be relied on for the purpose of avoiding any federal tax penalties. You are encouraged to seek tax or legal advice from an independent professional advisor. The content is derived from sources believed to be accurate. Neither the information presented nor any opinion expressed constitutes a solicitation for the purchase or sale of any security. This material was written and prepared by Emerald. Copyright © 2012 Emerald Connect, Inc.