As of March 1, 2013, paper Social Security checks will be a thing of the past, and all retirement and disability payments (with minor exceptions) will be made electronically.
Beneficiaries may choose to receive their monthly payments by direct deposit to a bank or credit union account or to a Direct Express® debit card. The Social Security Administration has been transitioning to electronic payments for some time, so most recipients are already enrolled. If you do not sign up by March 1, 2013, you will automatically receive a Direct Express debit card. You can enroll and find more information at the Treasury's website (www.godirect.org) or by calling (800) 333-1795.
By eliminating paper checks, the federal government anticipates saving about $120 million annually and 12 million pounds of paper during the first five years.1 The program is also intended to make accessing the funds safer and more convenient. Beneficiaries will no longer have to wait for a monthly check to arrive in the mail, take the time to deposit or cash it, or risk having it stolen from the mailbox.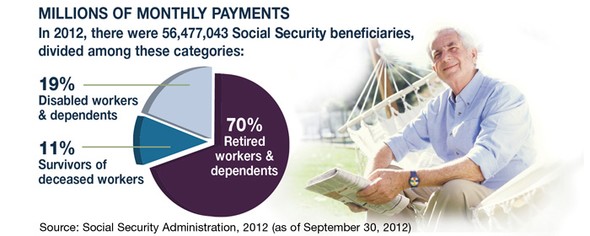 New Scams for New Times
Unfortunately, thieves adjust to changing times, and there is a growing trend toward fraudulent access to electronic benefit payments. In a typical scam, the thief gains access to personal information (such as a name and bank account number) and then contacts the Social Security Administration, requesting that payments be rerouted to a different account.2 If you are already receiving benefits, you can help protect your account by visitingwww.socialsecurity.gov/blockaccess, where you can block electronic or telephone access to your account until you contact the agency again and verify your identity.
Of course, it's good practice for all consumers to be wary of any requests for personal information. You should never provide account numbers or Social Security numbers in person, over the phone, or online unless you are absolutely sure that the transaction is secure and appropriate.
1) Kiplinger's Personal Finance, April 29, 2011
2) CNNMoney, September 26, 2012
The information in this article is not intended as tax or legal advice, and it may not be relied on for the purpose of avoiding any federal tax penalties. You are encouraged to seek tax or legal advice from an independent professional advisor. The content is derived from sources believed to be accurate. Neither the information presented nor any opinion expressed constitutes a solicitation for the purchase or sale of any security. This material was written and prepared by Emerald. Copyright © 2013 Emerald Connect, Inc.