Not long ago, small businesses may have found it difficult to compete with larger companies, especially those with the financial resources to develop or purchase more advanced technology. In the last couple of years, however, innovative and relatively inexpensive apps for tablet computers may have helped some small businesses save time, increase productivity, and reduce costs.
One survey found that 67% of small businesses used tablet computers in 2012, up from 57% in 2011.1 Tablets are a fairly new type of computing device, but small businesses have adopted the technology rather quickly, perhaps because the devices are portable, versatile, and relatively inexpensive.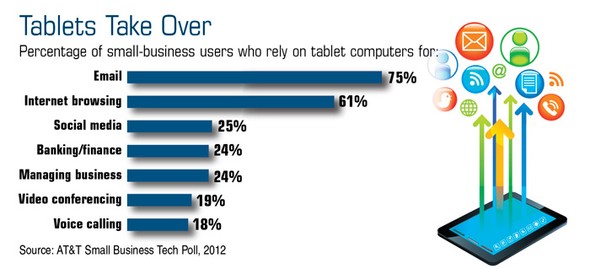 Here's a closer look at how tablet usage and a slew of new apps may be changing the way some companies conduct business on a daily basis.
Communication
The ability to access the Internet from almost anywhere has helped create a more mobile workforce who may be as productive in the field or from home as they could be at the office. Workers can use tablets to make sales presentations, take notes, and collaborate with supervisors or other employees via video conferencing, email, or instant messaging. Business owners and employees may be able to respond to clients and meet their customers' needs more quickly and easily than ever before.
Operations
One widely adopted technology allows small-business workers to swipe credit or debit cards and process payments from tablet computers and smartphones.2 In addition, a wide selection of financial apps focus on payroll, billing, expense tracking, account management, and general banking.
Apps have been designed to track customer transactions and/or help back up and secure sensitive data, streamline marketing and social-media activities, create and fill out forms, share documents, manage tasks and schedules, among many other purposes. Small-business owners and freelancers may also have access to a number of tools designed specifically for their industry.
You may be wondering whether there are apps that could help your business grow and run more smoothly. With so many options to choose from, you may want to devote some time to researching new technology that could help your company compete and grow.
1) AT&T Small Business Tech Poll, 2012
2) USA Today, August 19, 2012
The information in this article is not intended as tax or legal advice, and it may not be relied on for the purpose of avoiding any federal tax penalties. You are encouraged to seek tax or legal advice from an independent professional advisor. The content is derived from sources believed to be accurate. Neither the information presented nor any opinion expressed constitutes a solicitation for the purchase or sale of any security. This material was written and prepared by Emerald. Copyright © 2013 Emerald Connect, Inc.