It may not be pleasant to think about the possibility of being unable to take care of yourself, but about seven out of ten people over age 65 are expected to need some form of long-term care during their lifetimes.1
Many people might be able to stay in their own homes and receive care from family members or friends. But a surprising number — 20% to 49%, depending on the study — may need expensive full-time care in an assisted-living facility or a nursing home.2
The cost of care varies widely among different facilities and from state to state. National median rates are $3,300 per month for an assisted-living facility and $222 per day for a private room in a nursing home.3 On an annual basis, that adds up to $39,600 and $81,030, respectively.
About one out of five people who enter a nursing home stay for at least five years, so there is a significant risk of extended out-of-pocket costs.4Wherever you live, it would be wise to factor in the potential costs of long-term care into your retirement savings strategy.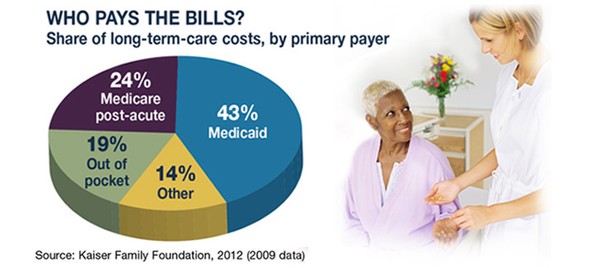 Limitations of Government Programs
Medicare does not pay for custodial care. However, skilled nursing care services may be covered if they are medically necessary to help improve a patient's condition. If a doctor authorizes such care and admission to a skilled nursing facility occurs within 30 days of a qualifying three-day hospital stay, Medicare will pay covered services (subject to Medicare deductibles) for the first 20 days, but the patient is responsible for a daily copayment for days 21 through 100. After 100 days, Medicare provides no coverage at all. Home health care might be covered by Medicare if it is "reasonable and necessary" to treat an acute illness or injury.5
Medicaid — a joint federal and state program designed to assist low-income individuals — offers some long-term-care coverage. But it can be difficult to qualify for Medicaid, the choices of care are more limited, and households may have to "spend down" their assets in order to obtain benefits.
Unfortunately, you can't anticipate when a health crisis could occur that requires the need for long-term care. As with many of life's challenges, the wisest course is to be prepared.
1) National Clearinghouse for Long Term Care Information, 2012
2, 4) 2012 Field Guide, National Underwriter
3) skillednursingfacilities.org, 2012
5) Medicare.gov, 2012
The information in this article is not intended as tax or legal advice, and it may not be relied on for the purpose of avoiding any federal tax penalties. You are encouraged to seek tax or legal advice from an independent professional advisor. The content is derived from sources believed to be accurate. Neither the information presented nor any opinion expressed constitutes a solicitation for the purchase or sale of any security. This material was written and prepared by Emerald. Copyright © 2013 Emerald Connect, Inc.